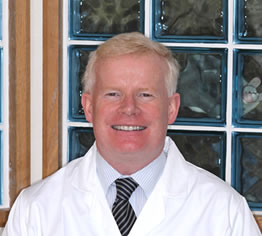 Dr John Buckley is passionate about achieving the best possible result in lingual orthodontics. He was awarded a master's degree (with excellence) in lingual orthodontics from the university of Hannover Germany in 2012. He was the first orthodontist in the island of Ireland (and the second in the British Isles) to receive a master's degree in lingual orthodontics. This is an additional qualification for orthodontists. Entry to the "Masters in Lingual Orthodontics Programme in Hannover" is restricted to clinicians who are already recognised/registered specialist orthodontists. It is a two year training programme which has been running in the university of Hannover Medical School since 2006. For the first time in October 2010, the programme was taught through English rather than German. In that year Dr Buckley commenced the two year programme, along with 5 other specialist orthodontic colleagues, an Italian, a German, an American, a Spaniard, and a Portuguese. In Sept 2012 we all qualified with a masters in Lingual Orthodontics.
This additional training enables Dr Buckley to achieve the same excellent orthodontic results with lingual (on the inside braces) braces as can be achieved with regular (outside) braces.
Being a member of the masters in lingual orthodontics alumni of Hannover medical school allows Dr Buckley to " keep up to date" in the fast evolving specialty of lingual orthodontics. As an alumni member he has access to the new lectures every month (for 11 months of the year) on the departmental website (as they are recorded every month while they are being given to the new postgraduate masters students who are in attendance in Hannover for their 2 year programme). The questions posed by the new postgraduate master's students and the interaction with the lecturers is insightful. Everytime one listens to a series of new monthly lectures useful tips are picked up.
While attending for the masters in lingual orthodontics in Hannover Dr Buckley has developed a network of colleagues and friends from around the world who are equally passionate about achieving excellent orthodontic results with lingual orthodontics. The ongoing interaction with these colleagues is extremely informative.
Dr Buckley has been in the full time practice of orthodontics for over twenty years at Clonmel Orthodontics. He holds the following qualifications:
B.D.S.   (Honours) National university of Ireland.
F.D.S.   Royal College of Surgeons England.
M.Orth.   Royal College of Surgeons Edinburgh.
M.Sc.D,   University of Wales College of Medicine.
M.D.O.   Royal College of Surgeons Glasgow.
F.F.D.   Royal College of Surgeons of Ireland.
M.Sc   (Lingual Orthodontics) University of Hannover Medical School Germany.
He has treated thousands of orthodontic patients during this time with labial orthodontic appliances (outside braces). Orthodontics has evolved as a specialty to where, not only straight (aligned ) teeth are considered important , but also prioritising the beauty of the smile and enhancing the facial appearance where possible through orthodontic treatment. The knowledge and experience gained from treating these thousands of patients (with labial appliances) is applied by Dr Buckley when treating patients with lingual orthodontics (inside braces).
Finally It may be possible for your lingual orthodontic treatment to be provided on a Saturday, as well as Monday through to Friday.